Dropbox, like many large technology companies that store or host content uploaded by users, has to follow the Digital Millennium Copyright Act (DMCA). The DMCA helps copyright owners (such as musicians, film studios, authors, and others) prevent users from sharing copies of songs, movies, books, and other copyrighted data for free on the Internet. Practically speaking, if you try to share an mp3 or other music file, you will likely run into problems.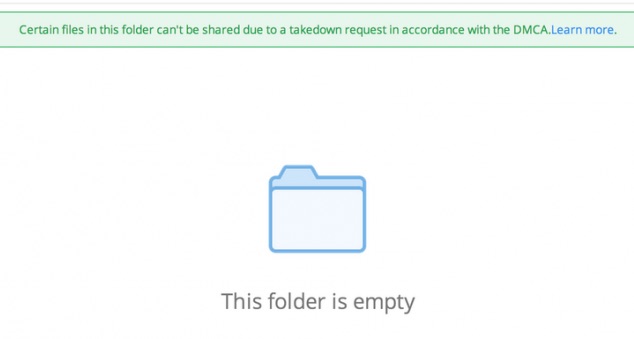 The way that Dropbox follows the DMCA is to prevent its users from sharing links to materials that it determines are copyrighted. So, if you share a link to a Dropbox folder that contains a copy of an old Jackson 5 mp3, any user who clicks on that link may see a message that says something like, "Certain files in this folder can't be shared due to a takedown request in accordance with the DMCA." When Ars Technica reported on a 2014 incident involving a copyrighted video file, Dropbox offered this clarification:
Dropbox did confirm to Ars that it checks publicly shared file links against hashes of other files that have been previously subject to successful DMCA requests. "We sometimes receive DMCA notices to remove links on copyright grounds," the company said in a statement provided to Ars. "When we receive these, we process them according to the law and disable the identified link. We have an automated system that then prevents other users from sharing the identical material using another Dropbox link. This is done by comparing file hashes."

Dropbox added that this comparison happens when a public link to your file is created and that "we don't look at the files in your private folders and are committed to keeping your stuff safe." The company wouldn't comment publicly on whether the same content-matching algorithm was run on files shared directly with other Dropbox users via the service's account-to-account sharing functions, but the wording of the statement suggests that this system only applies to publicly shared links.
However, I have not seen cases of Dropbox unilaterally removing copies of copyrighted files from Dropbox accounts. Why not? Because if I place an mp3 file of Jackson 5's "ABC" in my Dropbox account, Dropbox has no way of knowing whether the song is pirated. If I legitimately purchased the song or made a copy for my own disco-themed workout session in my living room, Dropbox does not have the right to remove it. The company can certainly prevent me from sharing it for free (per the DMCA) but for the time being Dropbox will make no additional assumptions about the legality of such content placed in a Dropbox folder.
Dropbox's official DMCA policy is listed here.